Narrators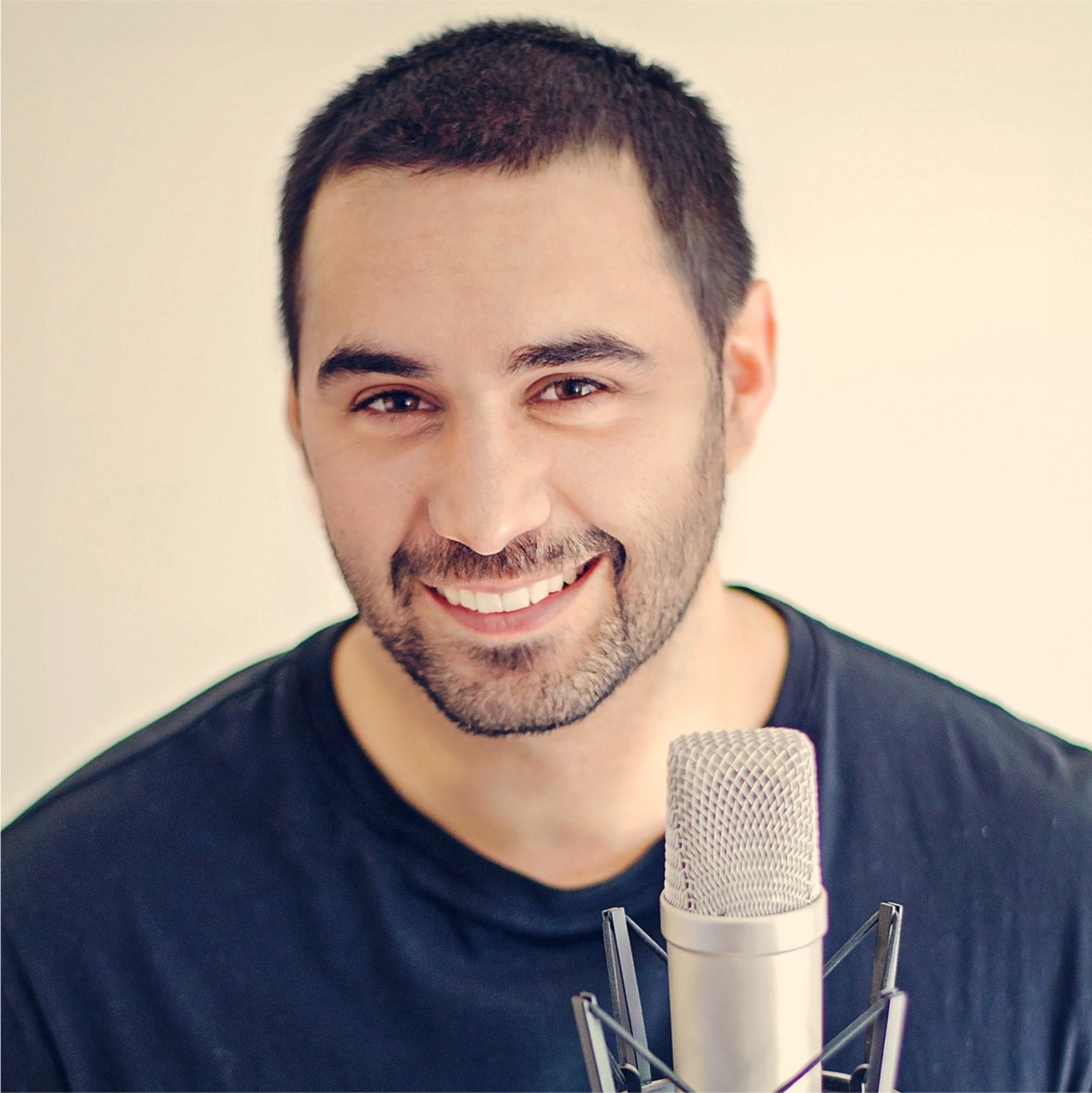 Are you an actor, a presenter or do you just have a nice voice?
We can give you the opportunity to:
Narrate your first audiobook
Get in touch with world-class authors
Discover the world of publishing and culture
Be part of the realization of an audiobook published all over the world
Read books free of charge
Earn money with a job that you can manage as you like
Below, step by step, how the system works.


---
First of all choose your plan
(FREE o GOLD - Yearly subscription)

Features
FREE
GOLD
Maximum Narration Proposals per Day

The maximum number of narration proposals that can be sent to authors per day.

2
Illimitate
Priority Listing in Job Assignments

The user will be displayed to authors/publisher before FREE narrators during the job assignment phase.

Priority in Paid Job Assignments

The user will be selected with priority in the assignment of paid jobs.

Social Media Links in Profile

Ability to add links to your social media profiles (Website, Facebook, Twitter, etc.) to your personal profile.

Reduced taxation for individuals (non-Italian users)

Possibility to avoid the application of the 30% taxation on royalties, upon submission of a request form and your Tax Residence Certificate to prevent double taxation, issued by the Tax Authority of the country of residence.
Read more...

Priority Technical Support

Guaranteed priority for technical support requests, managed through a dedicated online chat and our personalized ticketing system.

Free Coupons

Personalized Coupons that can be redeemed on our online bookstore, allowing readers to download a single book for free.

50
Access to free webinars

Free access to periodic webinars organized by us on specific topics of interest (audiobook creation, promotion, social media usage, etc.).

Discounts on Narration Assistance Software

Opportunity to receive coupons for purchasing software tools useful in the narration work.

Yearly subscription cost (EUR - VAT 22% included): 69,00

The subscription is valid for 365 days from the date of initial subscription or from the expiration date in the case of early renewal. If the renewal is done after the expiration date, the duration will always be 365 days from the renewal date.

SPECIAL LIMITED OFFER (EUR):
0
49,00
GREAT NEWS!
For this month only, for every 10 authors you invite and who complete the registration, you will receive a complimentary
ONE-MONTH GOLD SUBSCRIPTION.
More info...
1) Enter your data
To access all our services you must first sign up.
It's very important that you describe yourself as well as you can. Enter your own detailed biography, so you can attract the attention of authors.
2) Upload a sample of your voice
Our system will allow you to upload up to five samples of your voice, for each language you know. Samples will be your business card. To make your profile more interesting, record them with different intonations and accents.
3) Search books to be narrated
By accessing your personal area you can search for books to be narrated. You can select them by author, genre, language and many other options.
Carefully evaluate the books you want to work on. Read with attention the description, the book excerpt and verify the sale figures. If you prefer, contact the author directly and talk about it with him.
The narration could take a long time. Make sure you invest it in the best possible way.
Since the author can optionally give a narration grant, we suggest you to choose books with this option enabled.
The "narration grant"is a minimum fixed amount that you'll get in any case, even if the sales of the translated book won't reach high enough levels that could adequately compensate your work.

MINIMUM NARRATION GRANT
If you like it, you could also establish a minimum value of the narration grant, below which authors can't contact you. In this way, you will receive only proposals for the narration of books with a grant greater or equal to the one you established. Anyway, you can always search for books without any grant. Obviously, by setting this value, you might miss the opportunity to narrate an excellent book that has no grant set.
4) Propose your narration
The system will allow you to propose directly to the author your narration. At this stage, you will have to indicate the work execution times.
As your presentation, you will need to narrate a small sample text (a few paragraphs) that the author will evaluate, before giving you the job.
5) Sign the narration agreement
Once the author has accepted your narration proposal, you must digitally sign the narration agreement, already signed by the author.
Don't worry because, until you have not narrated the first stage of the 5% of the book and you have not obtained the approval from the author, you can always rescind the contract without incurring in any penalty.

If you don't have a digital signature, you can simply get it from one of our partners like Aruba, Infocert or by any other legally recognized provider, or you can use an alternative method, as described in detail in >> this page <<.

6) Complete the narration
During this phase, there will be an exchange of information between you and the author, in order to reach the goal. We will always do as guarantors, ensuring that the work will be properly carried out.
At this stage, you will have the obligation to:
Narrate the first part of the book (5%)
Complete the narration
Report to the author any mistake you have found in the book
After that the author has approved the narration of the first part of the book (5%)
you can not rescind the contract
without incurring the penalty provided for.
7) Upload the narrated book
After completing the narration, you will need to send the narrated book (audiobook) and we'll publish it.
The management of the publication, the distribution and the accounting of the proceeds from sales will be entirely carried out by us, as described in the narration agreement. You can view at any time the sales data and your earnings, directly from your personal area.
8) Start earning
It's done!
Your narrated book (audiobook) is for sale in all the best online libraries in the world. You have only to periodically check the sales performance of the audiobook and automatically receive revenues directly in your account.
Naturally, we welcome any assistance offered by you in promotion. It is crucial to advertise the new audiobook using even free tools such as social media (Facebook, Instagram, Twitter, etc.), blogs, websites and so on, to ensure its success and achieve the related economic benefit.
---
---
Revenue sharing
Now you definitely must be wondering how your work will be rewarded. Obviously, no one works for free. The author will share with you a percentage of the sales revenue, following this structure:
| | | | | |
| --- | --- | --- | --- | --- |
| From | To | Author | Narrator | Tektime |
| € 0,00 | € 999,99 | 15% | 75% | 10% |
| € 1.000 | € 1.999,99 | 30% | 60% | 10% |
| € 2.000 | € 3.999,99 | 60% | 30% | 10% |
| € 4.000 | € 7.999,99 | 70% | 20% | 10% |
| € 8.000 | € ... | 80% | 10% | 10% |
For clarity, we insert a graphical view of the same report: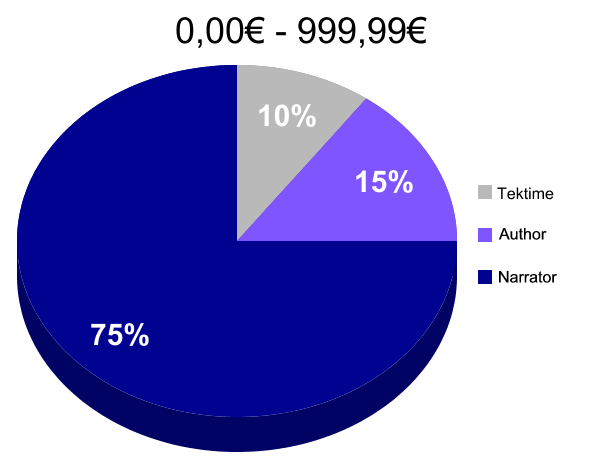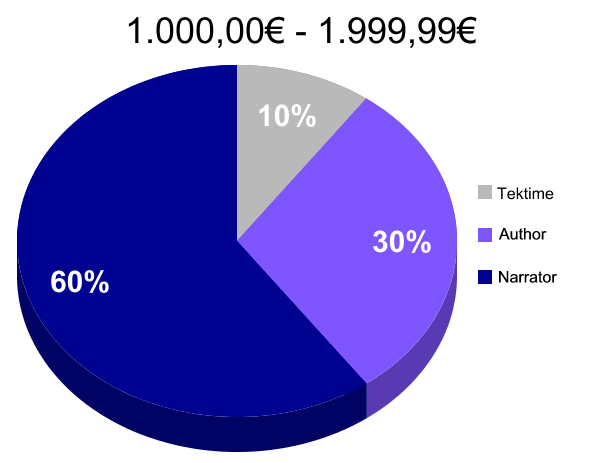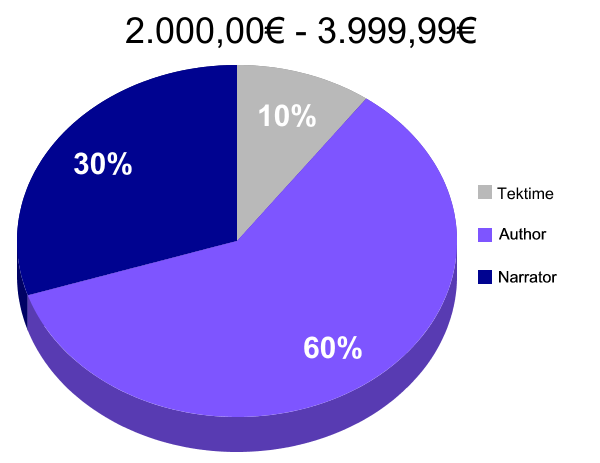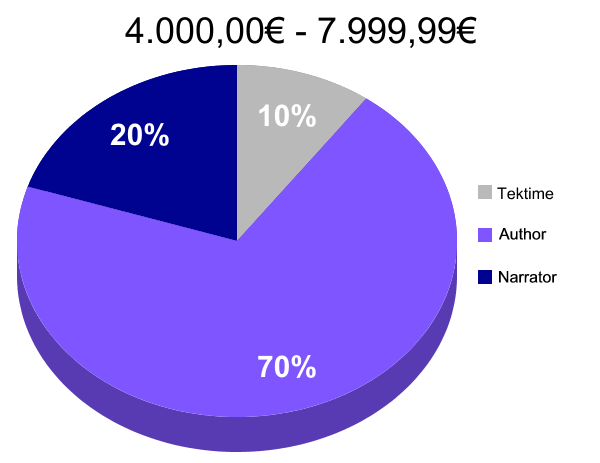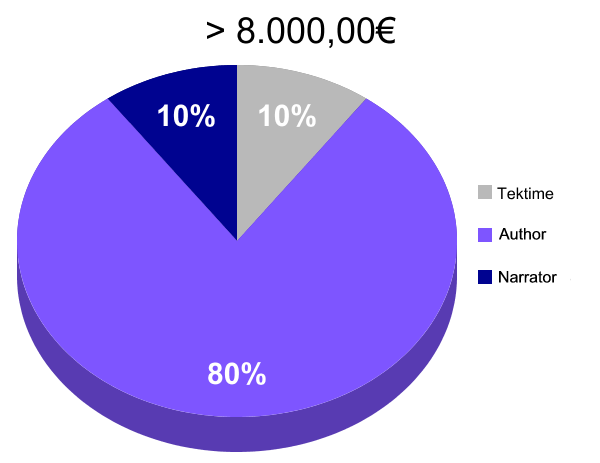 It is possible to download an Excel spreadsheet where you can simulate sales and revenues.
Why choose Revenue Sharing?
Unlike a job with direct payment, the Revenue Sharing system will allow you to have a constant income for the entire period in which the audiobook will be on the market.
Our contracts have a minimum distribution duration of seven years and then will be automatically renewed from year to year thereafter.
Our authors, after the expiration of the contract, hardly withdraw the audiobook from the market as they would lose all its history (reviews, shares, rankings, etc.) not to mention that they would have to buy a new ISBN and then entrust the distribution to some another publisher, starting from scratch.
A narration job therefore does not end with the delivery of the text but its revenues will last for many years, thus guaranteeing constant income over time.
So what are you waiting for?
Sign up now and become a part of our community.
• How it works for authors...
• How it works for translators...
• How it works for publishers...
• How it works for affiliates...
• How it works for partners...